Francesca makes her debut in México at the amazing Teatro del Bicentenario, in the frame of the most important artistic and cultural event in Mexico and in all Latin America: the Festival Cervantino.
PROGRAM
Friday 9 Oct | 20:00 hrs | Guanajuato |
Teatro del Bicentenario
Orquesta Sinfónica de Guanajuato
Francesca Dego, violin | Roberto Beltrán-Zavala, conductor
Mendelssohn, Violin concerto e minor,  op. 64 | Mahler, Symphony Num. 1 D Mayor,  Titán
Huge success of Roberto Beltrán-Zavala and Francesca Dego
in the Festival Internacional Cervantino (México)
REVIEWS

"Su técnica brillante al violín y calidez interpretativa, fueron claves de su éxito en el Cervantino …

El Teatro del Bicentenario recibió una selección bipolar por parte de la Orquesta Sinfónica de la Universidad de Guanajuato, ya que por un lado se presentó el Concierto para Violín en Mi Menor, Op. 64 de Felix Mendelssohn, considerada la última gran obra orquestal del músico alemán y por otro lado, se interpretó la Sinfonía no. 1 en Re mayor Titán, de Gustav Mahler, que representa su primera obra de gran aliento.

Ambas obras fueron interpretadas de forma magistral, para el deleite de cientos de asistentes, esto pese a que el Concierto de Mendelssonhn es una pieza complicada para violín acompañada de una sinfónica.

Dego simplemente cautivó al público asistente…"
"Durante la interpretación de Francesca Dego las personas que ocupaban las butacas a lo largo y ancho del teatro, detuvieron su respiración por momentos y procuraron no parpadear ni moverse, atentos a cada movimiento de esta impresionante y joven artista que elevó la música de Mendelssohn a un nivel superior de interpretación que raya en la perfección …"
"… encontró en la muy joven violinista italiana Francesca Dego, una fiel intérprete, que supo imprimir los matices tan llenos de sutileza de la obra. Se creció en cada uno de los movimientos y al finalizar su actuación fue largamente ovacionada, regalando al público un solo de violín de corte contemporáneo que le fue reconocido en una ovación.."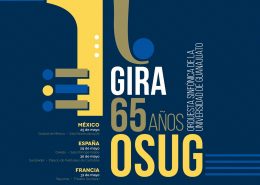 https://belenalonsomanagement.com/wp-content/uploads/2017/05/Gira-Europea-65-Aniversario-Orquesta-Sinfónica-de-la-Universidad-Guanajuato-OSUG.jpg
2048
1467
BA Management
https://belenalonsomanagement.com/wp-content/uploads/2015/01/logo-más-amplio.png
BA Management
2017-05-23 09:27:03
2017-05-23 09:27:03
Francisco Fullana, Brodsky Quartet, Francesca Dego and Shlomo Mintz celebrates OSUG 65th Anniversary!