GUANAJUATO SYMPHONY ORCHESTRA
European Tour 2017
Guanajuato Symphony Orchestra
 T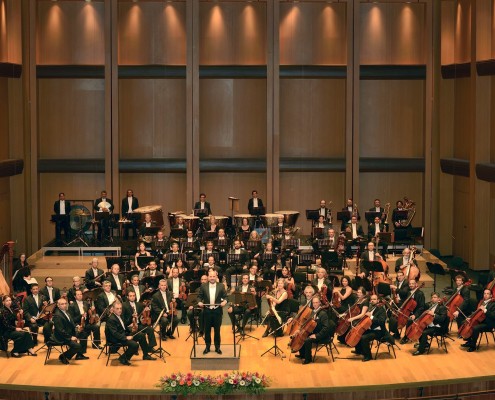 he Guanajuato Symphony Orchestra is one of the oldest, finest and most relevant orchestral ensembles in México, with a long and rich symphonic tradition, recognized for its versatility, and groundbreaking programing. The orchestra is based in the UNESCO World Cultural Heritage City of Guanajuato, México and offers two seasons per year, with 17 programs per season. Guanajuato is known as one of the cultural capitals of Latin America and home of the Festival Cervantino, the largest cultural festival in the Americas.
The Guanajuato Symphony Orchestra has served for over 15 years as the Resident Orchestra of the Festival and has worked with distinguished soloists and conductors such as Katia and Marielle Labeque, Gerhart Muench, Jorge Federico Osorio, Ramón Vargas, Eduardo Mata, Bernard Flavigny, Neeme Jarvi, Cyprien Katsarys, Enrique Diemecke, and John de Main, to name a few. As of June 2015, Mexican-Dutch conductor Roberto Beltrán-Zavala has been appointed Music director and Chief conductor.
A fascinating personality in the European music scene, Maestro Beltrán Zavala is rapidly earning international reputation as a world-class artist with impressive, electrifying performances of late romantic and 20th century repertoire
Roberto Beltrán-Zavala
Widely regarded by audiences and orchestras as an inspiring, thrilling and powerful musician, the Mexican-Dutch conductor Roberto Beltrán-Zavala is rapidly earning an international reputation for his impressive, electrifying performances of late romantic and twentieth century repertoire in the Netherlands, Belgium, Germany, Malta, Romania, Poland, Switzerland and Mexico. Recent highlights include acclaimed performances of musical cornerstones such as Mahler's First Symphony and Das Lied von der Erde, Stravinsky's Symphony in Three Movements, Bartók's Miraculous Mandarin Suite, as well as important works of the twentieth century such as Varèse's Octandre and Offrandes, Boulez's Éclat and Messiaen's Et exspecto resurrectionem mortuorum.
Roberto Beltrán-Zavala holds the position of artistic director of Rotterdam's re:orchestra, considered by specialized media as one of Europe's best chamber orchestras and with which he regularly visits major European concert halls, and has recently been appointed chief conductor of the Orquesta Sinfónica de la Universidad de Guanajuato in Mexico. He is also principal conductor of the AKOM Ensemble, a contemporary music group based in the Netherlands.
Next to his commitments as Artistic director and Chief conductor, upcoming highlights in 2016 include debuts in Argentina's Teatro Colon, Sinfónica di San Remo in Italy and Germany's Westfalen Filharmonie.
Official representation in México:
Patricia Belia Arroyo Solís
General Manager
caminoantiguo@hotmail.com
+52 473 735 3700 ext. 2738 | +52 473 7389 449
Elías Galindo
Public Relations Manager
elias.galo11@gmail.com
+52 473 735 3700 ext. 2718 | +52 473 7377 464
Guanajuato Symphony Orchestra
Mesón de San Antonio Calle de Alonso, 12 Centro
36000 Guanajuato
osug@ugto.mx
www.extension.ugto.mx
Official representation in Europe:
Belén Alonso
BA Management
b.alonsomonedero@gmail.com
 +34 607 24 97 45 | +41 79 1325667
 www.belenalonsomanagement.com