BRODSKY QUARTET CELEBRATES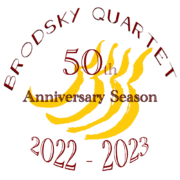 In 2022/2023 season, the British string quartet, The Brodsky Quartet are celebrating their 50th anniversary.
Performing two different programs which include works by Shostakovich, Debussy, Bach, Britten and Ravel, the concerts will celebrate their extraordinary fifty-year legacy of music-making.
The Brodsky Quartet has been making arrangements throughout its fifty year existence. Initially for encores with material often from the piano or even orchestral repertoire creatively rearranged for the quartet.
'How has it been 50 years since we started this lifelong journey together? Looking back, I find it wonderful that 10- and 12-year olds were already infused with passion and belief in the longevity that is now playing out. Two of us remain from the beginning, one joined as we turned professional 40 years ago, and our new fourth member has had her own similar path in the endlessly rewarding and fascinating life that is the String Quartet! We still gain a huge amount of pleasure in the endlessly fascinating vocation we have made our lives' work. Rehearsals can delve with manic intensity into the minute detail of our craft, as much now as when we were young and finding our collective voice. The passion remains in our hearts and, we hope, will still manage to thrill our audiences as we set off on this anniversary season!'
Brodsky Quartet
⊗ Pamplona, February 16th 2023
Teatro Gayarre | 19:00
Program:
Bach Solo Violin Sonata in A minor (arr. P Cassidy) 
Britten Quartet No 1
Ravel Quartet in F
⊗ Santander, March 2nd 2023
Palacio de Festivales de Cantabria (Sala Pereda) | 19:30
Program:
Bach  Violin Sonata in A minor (arr. Paul Cassidy)
Debussy Quartet in G minor
Shostakovich 3