December 13 – Auditorio del Estado, Guanajuato
December 14 – Teatro del Bicentenario, León, Gto.
ROBERTO BELTRÁN-ZAVALA
conducts
FRANCESCA DEGO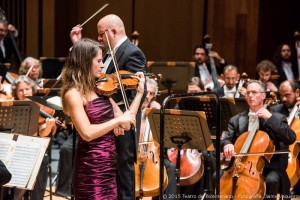 PROGRAM
P. I. Tchaikovsky
 Orchestral Suite Mozartiana no. 4, Op. 61
Violin concerto D minor, Op. 35
W. A. Mozart
Coronation Mass C Major, Kv 317
FRANCESCA DEGO México | December 2019
---
During her visito to México, Francesca Dego will also visit the Instituto Oviedo (León Guanajuato) and will perform a solo recital at the Aurora Theatre.
J. S. Bach: Chaconne de la Partita n.2
Carlo Boccadoro: "Come d'Autunno" (2019- dedicated to Francesca Dego)
Fritz Kreisler: Recitative y Scherzo Caprice 
Nicolò Paganini: Caprices 13-20-21-24
John Corigliano: Caprices (of Red Violin)
Photos at Teatro del Bicentenario by © Roberto Saldaña Plasencia