Brodsky Quartet announces new member

Daniel Rowland to leave the quartet in May

---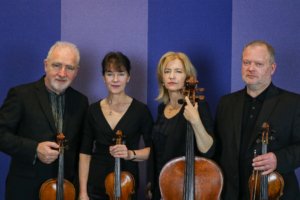 "We are delighted to announce that Gina McCormack will join the Brodsky Quartet in May 2019. Gina replaces Daniel Rowland who leaves to pursue a solo career after twelve wonderfully diverse years with us. Our time together saw the Quartet accepting an exclusive recording contract with Chandos, and becoming Artistic Associates at London's Kings Place, as well as continuing to bring fresh and innovative programmes to the world's mainstages.
Gina is a highly sought-after violinist, who has dedicated her musical life to playing quartets. As a consequence she has not only performed but recorded much of the repertoire that has become synonymous with the Brodsky Quartet. And so it seems, the stars have aligned to bring these two musical forces together.
We consider ourselves truly blessed to have encountered someone with such experience and commitment to the cause as Gina McCormack. We could not have dreamed of a more perfect partner to accompany us on our continued journey as a quartet. Avanti!! 
We are hugely excited to be working with Gina, and look forward to introducing her to our many friends around the world. We would also like to take this opportunity to thank Daniel enormously for his wonderful collaboration and to wish him well in the future."
Brodsky Quartet
The Brodsky Quartet, with a new violinist, at the top of its game
Tour to Australia and New Zealand reviews | May 2019
Melbourne Recital Centre
The Brodskys showcased every nuance of their extraordinary skills. From their individual prowess to their near-telepathic sense of ensemble and their chameleonesque ability to inhabit the sound-world of any period, this was a performance that seemed boundless in possibility.
But it was the more stripped back, though no less affecting, textures of Shostakovich's profoundly moving eighth quartet….that fully revealed why this quartet is considered one of the world's best.
Sydney Morning Herald
Canberra Festival:
Very early on it became obvious that the Brodsky Quartet is made up of supreme talent. Their cohesion and perfect blending were inspiring as they passed the lead from one to the other in seamless transition. This could happen in single phrases with the music passing from one player to the next. Their balance was so fine the eyes could follow the sound. They took the light, rather transparent character of these pieces and made them charming and delightful.
Limelight Magazine
Utzon Room SOH
A spellbinding glimpse at a new era for the ground-breaking Brodsky Quartet.
…it was obvious to all that the "new era" will be as exciting as all those that have gone before.
…it was immediately apparent that McCormack had no problems melding with the trademark bold, adventurous and warm tone and approach of her new collaborators.
(Grosse Fugue)…a highly nuanced performance with some magical moments in the quieter passages before the whirlwind finale was unleashed.
There was a pause of almost a minute before the audience applauded – testimony to the spell that the new-look Brodsky Quartet had cast.
Limelight Magazine